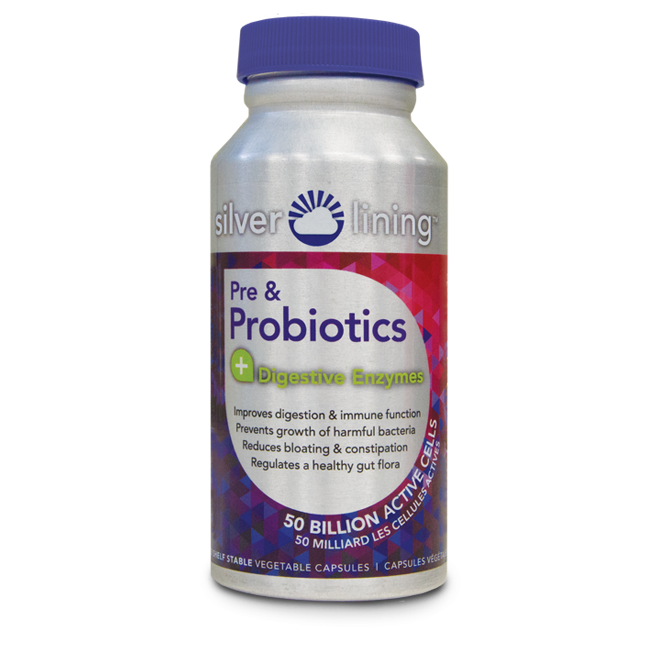 PREBIOTIC, PROBIOTICS & DIGESTIVE
ENZYMES SUPPLEMENT – 120 CAPS
BENEFITS
Regulates a healthy gut flora
Dramatically increases immune function
Improves digestion
Limits intestinal upsets, diarrhea and constipation (IBS)
Shortens duration of sickness
Helps prevent growth of harmful bacteria
Stimulates the growth/activity of advantageous bacteria
INGREDIENTS
Lactobacillus acidophilus, Lactobacillus casei, Bifidobacterium bifidum, Pediococcus acidilactici, Amylase, Cellulase, Lipase, Protease, Whey.
FEATURES
Contains 50 billion active cells
Shelf stable (no refrigeration necessary)
No artificial colours, flavours or preservatives
No sugar, salt, starch or gluten
We adhere to our high standards of quality control. You can be sure that every bottle of SILVER LINING™ has been thoroughly inspected.
SILVER LINING™ is for YOU:
The ones trying to get back on track… and their support system.
The aspiring health advocates… and the seekers of balance.
The recovering patients… and their caretakers.
The ones in their golden years… and the ones turning a new leaf after years of neglect.
SILVER LINING – STORE LOCATOR
Please call your local health food store for product availability!
For locations on additional products visit our STORE LOCATOR page. 
CONTACT US
Hedley Enterprises Ltd.
5A-2010 Currie Boulevard
Brandon, MB R7B 4E7
Canada
Office Hours
Mon-Fri - 9am - 5pm CST
Toll-Free Phone: 1-888-292-5660
Fax: 204-571-1811
Email: contactus@hedleynutritionals.ca
ABOUT HEDLEY NUTRITIONAL'S
Hedley Nutritional's is our new online ordering portal for wholesale distribution.
hedleynutrionals.ca is owned and operated by Hedley Enterprises. Our goals are to provide our customers with a convenient way to research, educate and order our products. Now with hedleynutrionals.ca you can place your order at anytime 24/7.
OUR BRANDS
Ancient Minerals, Immuno Care, BoneMD, Iron Earth, Kardovite, Master Formulae, Medistik, Nature's Help, HumanN, NEO 40, North American Herb & Spice, Option Biotech, UMAC-CORE Marine Phytoplankton, Immuno Pet, Stephen Health Agency Inc, Wowsabi, Refresh It, Biovibes, NaturPet, MySpray, CrèmeFRESH, Certified Naturals.