One Product: For you, your home, your environment, and your health.
No carcinogens! – safe to use.
Refresh it! Spray is an all-natural odour eliminator containing only pure, natural ingredients.  Refresh it! does not contain any formaldehyde, phthalates, dichlorobenzene, or other harmful chemicals and carcinogens found in many common household products.

Refresh it! was made for a healthier you:
Contains only natural ingredients
Clean, fresh scent
Contains pure lavender, mint, and tea tree oil extracts
Safe for use around children and pets
Anti-microbial, anti-fungal, and anti-bacterial
Refresh it! Spray … Any Odor. Anytime. Anywhere:
At home use Refresh it! on laundry, clothing, linens, fabric, upholstery, or as an air freshener
Use Refresh it! to remove odors in your car, boat, trailer, or RV
Use Refresh it! on activewear to remove foul odours
Use Refresh it! as a surface cleaner/deodorizer
Refresh it! doesn't mask odors.  It removes them entirely!
Enjoy The Beauty of Natural Ingredients!
Refresh it! Spray is Filled with Rich, All-Natural Essential Oils like Lavender, Mint and Tea Tree.
Refresh it! Spray is an all  natural odor eliminator spray containing only plant and mineral based ingredients. This powerful odor remover annihilates odors without releasing any harsh chemical fumes or residue.  Refresh it! Spray doesn't just mask the strongest, nastiest bad odors … it actually kills the bacteria that causes them, leaving a light, minty fragrance behind. Refresh it! Spray also kills viruses and fungi as it deodorizes and disinfects!
Non-Toxic!
Tough on The Bad Things,
Easy on the Good Things.
Refresh it! Spray is naturally anti-microbial and anti-bacterial.
Refresh it! Spray disinfects and removes harmful bacteria from the air, meaning it doesn't just cover it, Refresh it! Spray actually removes bad odours from the air.
The Best All Natural Hockey Odor Eliminator.
Eliminates tough odors.
Anti-Bacterial, Anti-Fungal. Safe for all hockey gear and skin!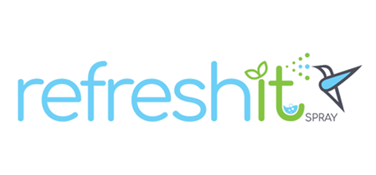 ONE PRODUCT
Refresh it! Spray is an all-natural odour eliminator containing only pure, natural ingredients.
CONTACT US
Hedley Enterprises Ltd.
5A-2010 Currie Boulevard
Brandon, MB R7B 4E7
Canada
Office Hours
Mon-Fri - 9am - 5pm CST
Toll-Free Phone: 1-888-292-5660
Fax: 204-571-1811
Email: contactus@hedleynutritionals.ca
ABOUT HEDLEY NUTRITIONAL'S
Hedley Nutritional's is our new online ordering portal for wholesale distribution.
hedleynutrionals.ca is owned and operated by Hedley Enterprises. Our goals are to provide our customers with a convenient way to research, educate and order our products. Now with hedleynutrionals.ca you can place your order at anytime 24/7.
OUR BRANDS
Ancient Minerals, Immuno Care, BoneMD, Iron Earth, Kardovite, Master Formulae, Medistik, Nature's Help, HumanN, NEO 40, North American Herb & Spice, Option Biotech, UMAC-CORE Marine Phytoplankton, Immuno Pet, Stephen Health Agency Inc, Wowsabi, Refresh It, Biovibes, NaturPet, MySpray, CrèmeFRESH, Certified Naturals.